Bangabandhu Sheikh Mujibur Rahman at the 29th United Nations General Assembly in 1974. Photo: ARCHIVES
">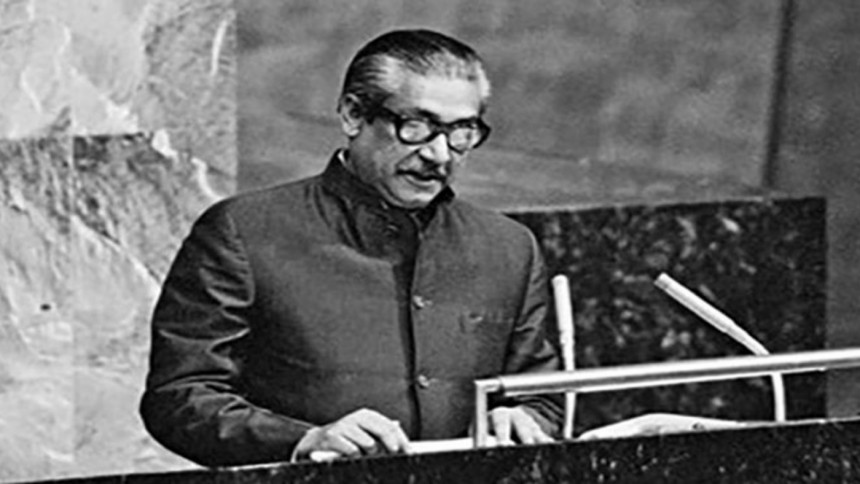 Bangabandhu Sheikh Mujibur Rahman at the 29th United Nations General Assembly in 1974. Photo: ARCHIVES
Bangabandhu Sheikh Mujibur Rahman's economic philosophy gives equal importance to public and private sectors and cooperatives in terms of ownership of industries, Binayak Sen, Director General of the Bangladesh Institute of Development Studies (BIDS) said yesterday. .
"Bangabandhu socialism does not imply an economy dominated solely by state ownership of industries, rather he believed in a mixed form of public, private and cooperative ownership," he said.
For all the latest news, follow the Daily Star's Google News channel.
Sen was delivering a speech at an event titled "Bangabandhu's Economic Philosophy: Contemporary Debate" organized by 1971 Genocide-Torture Archive and Museum Trust in Dhaka.
"It is very important for us to read Bangabandhu and understand his view from the literature about him written by his companions," he said.
"Because it would give us a bird's-eye view of the great leader who not only gave compelling speeches or leadership, but also his lofty thoughts on how to bring social and economic justice to the country," he said. he declared.
"His vision is to ensure the development of the country while meeting the basic needs – food, education, clothing, etc. – of the people," Sen said.
He envisioned a diametrically directed socialism. But the way of implementing such a system was unknown to him because no country in the world had introduced it, he said.
"So Bangabandhu ordered that we should not follow any model to introduce such a system because even the Soviet Union could not implement socialism," he said.
Bangabandhu did not want a Bangladesh ruled by a handful of families who monopolized the country's resources. He did not want the fate of the people to be determined by the rich and influential, he added.
Sen said the formation of the Bangladesh Krishak Sramik Awami League (BAKSAL), which required all other parties and associations including various services and forces to join the national party, was for a limited period.
Bangabadu wanted to overcome the political and economic crisis by introducing this system, he said.
Muntassir Mamoon, chairman trustee of the 1971 Genocide-Torture Archive and Museum Trust, was present.